Diakonische Jugendhilfe Region Heilbronn
A common noun combined with a young logo
The self-image of social welfare includes campaigning for others, providing help and showing new perspectives. Here pedagogic help is viewed as a service. There was thus a desire to be seen as communicative in the sense of a platform for help for youth. An optimistic, lively and youthful element was added to the label "Social Welfare youth help" – in a manner of speaking a common noun. The speech bubble stands for communication and exchange and for being understood as a mouthpiece for the concerns and needs of people.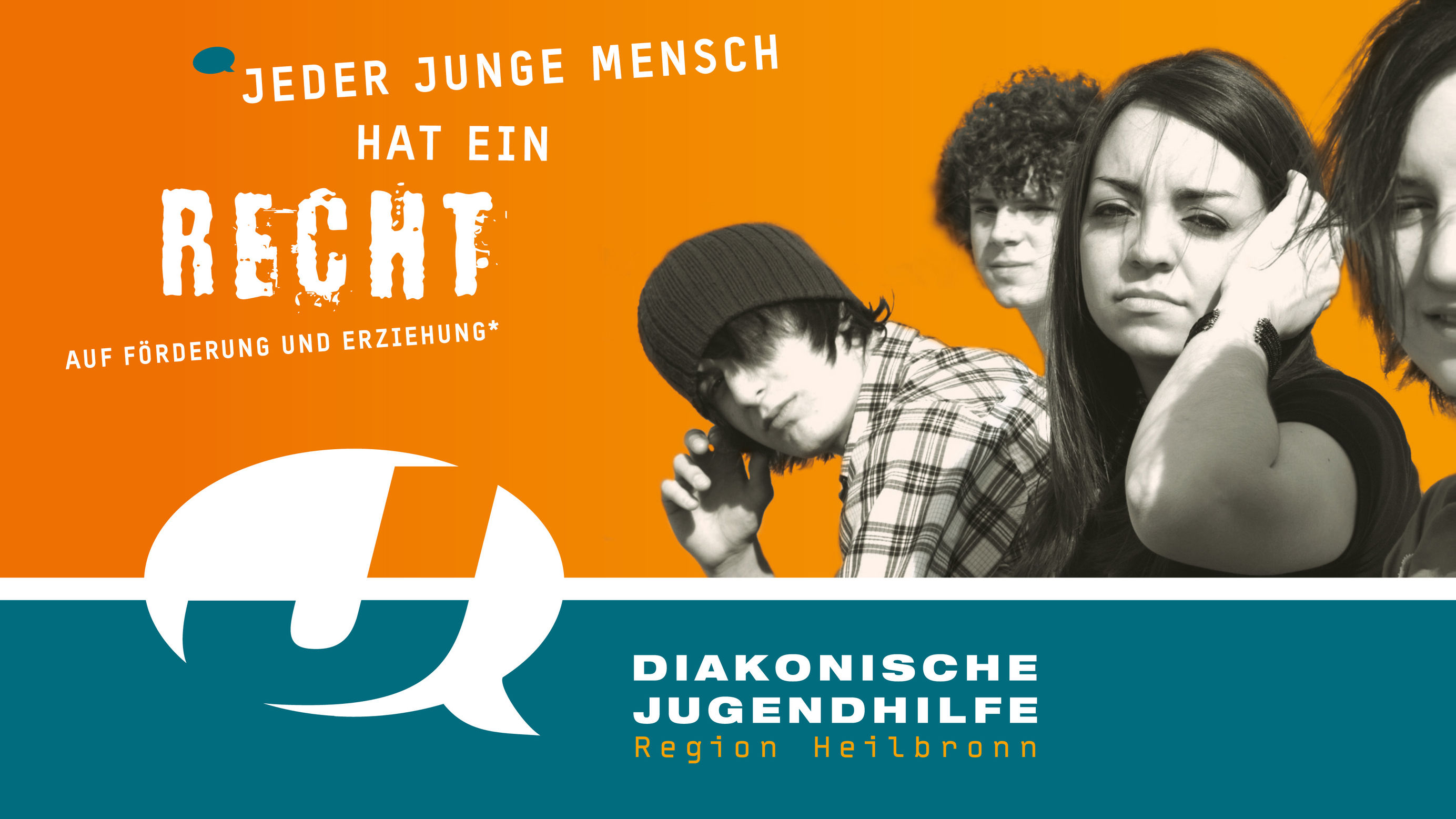 Social Help for Youth on the Move
---
The occasion for the genesis of this publication was the 50-year jubilee of the Social Help for Youth in the Heilbronn Region. In around 14 months of detailed work a book grew out of innumerable pictures and documents which offers a look into the chequered and moving history of Social help for Youth from its beginnings in the post-war years to today, but one which remains fragmentary. It is not the finished, complete image but rather a living picture which should appear in one's head. An unfinished impression was thus desired – "non finito" in the sense of an incomplete sculpture which has unwrought pieces. This work was honoured with the internationally renowned design prize "red dot award:communication design 2011".
Kirchardt in the administrative district of Heilbronn – around 5,450 people from 35 various nations live here. 17 of them answered the call from the community to pack their suitcases with memories of home and with symbols of the journey that led them to Kirchardt. An exciting journey into the past begins … When we become of aware of the project we are immediately thrilled and decide to support the ambitious project on a non-profit basis. And we inspired a female photographer, the picture processor, the printers and the book binder to support the project as well.
The train station as a public place – an exhibition concept
The DJHN has resided since 2016 in the former Eppinger train station. Even though the majority of the building is used as office space, the middle of this historic building remains accessible to travellers and citizens.
A solution was sought that used the versatile and actively-used large seminar room for (art) exhibitions by disabled and non-disabled artists alike. The challenge was to use as little space as possible yet to be as much of a presence as necessary. The solution: high, solidly-installed exhibition walls with flexible mountings for a variety of large pictures and exhibition pieces. By means of the shelving panels -reminiscent of rail tracks – the walls can be made to suit the changing needs of the exhibitions.